PhD course: Facilitating innovative processes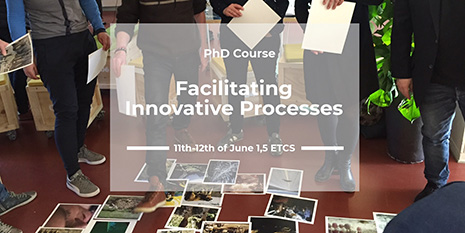 Aim and content
This is a generic course. This means that the course is reserved for PhD students at the Graduate School of Health and Medical Sciences at UCPH. Anyone can apply for the course, but if you are not a PhD student at the Graduate School, you will be placed on the waiting list until enrollment deadline. After the enrolment deadline, available seats will be allocated to the waiting list.
The course is free of charge for PhD students at Danish universities (except Copenhagen Business School). All other participants must pay the course fee.

Learning objectives
A student who has met the objectives of the course will be able to:
1. Facilitate group work and handling group dynamics 2. Make use of the different facilitating roles in relation to your own disciplinary background, competences and preferences 3. Develop and plan workshops and other types of processes with an engaging and collaborative focus

Content
The course will introduce you to the various aspects of facilitating innovative processes with focus on creativity and collaboration. During the course you will get the opportunity to try out and reflect upon tools and formats for facilitation relevant for both your teaching as well as collaboration processes and development projects. The course takes an exploratory view on facilitation in regards to the different approaches for structuring, staging and driving processes drawing from e.g. participatory design, dramaturgy and systemic theory.